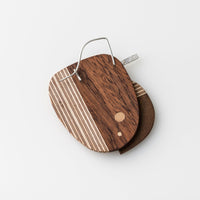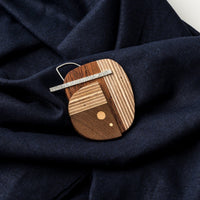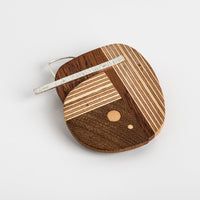 Bauhaus Wood and Eco Silver Brooch Pin - #1
Description
Shipping
Sustainable
Lighting CE
Bold, contemporary and striking, this one-of-a kind brooch are wearable artefacts. They feature history that is embedded within the rich pieces of wood and elegance from the handworked Sterling Silver. 

Description
A wearable piece of Bauhaus inspired art.
This brooch is from a one off collection of eight brooches is a collaboration between Beck Prior (Priormade) and Ange (Ange B Designs).  Both fanatical about cleverly blending contemporary geometric, abstract shapes with traditional craft skills, these brooches are individual works of art.
It's all about the shapes and textures.
This brooch is made using only four materials. Firstly you have ipe wood  - that was once the hatch of a 18th Century ship, this rose hued wood has a distinctive zebra like pattern. There is also jarrah which is a very hard and waterproof wood and this piece used to be part of a pontoon that was submerged under water for nearly 300 years.  The additional pieces are birch plywood from the Priormade studio. The wood is sawn, planed and the cut into shape using a fine saw and then finished with such high grade sand paper they feel like smooth, pebbles of glass that have spent a lifetime in the sea.  The Sterling silver-  certified Ecosilver,  (100% recycled) details and fastenings, add flare and contemporary styling that makes them wearable pieces of art. The shapes and textures work in harmony with the reclaimed wood: making the silver shine brighter and the wood grain richer - even the back of each brooch is beautiful!
These simple yet statement brooches are exclusive to Prior Shop. Beck and Ange have created this exclusive collection that references architecture and mirrors the textures, and colours found in each others work. 


Features
Comes in an gift box
100% reclaimed materials
Handmade in the UK
Dimensions
9cm x 8cm
Materials and care
Eco Silver  - 100% recycled sterling silver
Reclaimed wood:
Jarrah - pontoon to Bristol Brewery Georges & Co -  Early 1700's - 1999
Natural hard wax oil
Clean with a slightly damp cloth. 
Silver tarnishes naturally when exposed to the air. Rub regularly with a cloth or use a special silver cleaning cloth to avoid darkening. 
For UK orders, expect to recieve your order within 2-3 working days from purchasing.
We send all products with a premium door-to-door tracking service (Royal Mail and UPS). This gives you delviery updates and flexibility to change delviery slot.
£3.99 for all orders under £35
£5.99 for all orders over £35
FREE for all orders over £100.
All items come in gift boxes and can be gift wrapped for free.
International orders please click here to see our shipping policy
From the design stage, we are dedicated to creating products that are as responsbily and sustainably made as possible.
For a full list of the materials we use and why please click here
If purchasing one of our lamps, all of our light fittings are CE and ROHS compliant, Pat Tested and have product CE. We are trained in lighting legislation, compliance and production.
To read our full statement CLICK HERE
Sustainability
Material, waste & product longevity
Read about our dedication to sustainability in design.
Read more
Shipping you can reply on
Fast & Fully Tracked
We post orders every day from our Bristol workshop, with free gift wrappng and fully tracked postage door-to-door.
Find out more